Lunch & Snack Menus

Lunchroom Volunteers Needed!
We welcome you to volunteer for lunch duty whenever you can work it into your schedule. The signup genius has not been updated for April or May yet. Please show up and sign in at the office!
The SKCEE staff is still in need of volunteer support during lunchtime! If you haven't volunteered in the lunchroom recently, or you have never helped out at all, we encourage you to sign up. There are three shifts each day that each last 45 minutes––sign up for as many as you can commit to!
Lunchroom volunteers help to increase the student/caregiver ratio so that there are more adults to help SKCEE students open milk and lunch packaging, keep tables and the lunchroom clean, and ensure that students are safe. 
May Menus
Free and Reduced Lunch Application
***Please note that in the My School Bucks App – Stephen Knight is listed at Knight CEE***
The National School Lunch Program is a federally assisted meal program. It provides a nutritionally balanced, low-cost or free lunch to children each school day. Children, who are eligible free or reduced priced meals, may also qualify for other fee waivers. When completing the Household Application for Student Meal Benefits, parents must check the box giving consent to disclose the status of their student(s) to other programs.
On-line applications are the fastest and easiest way to apply for meal benefits whether you choose to opt-in or opt-out by clicking on the on-line application below.
Click here for the Household Application for Student Meal Benefits Letter.
Breakfast is always free for our students. ECE students will be enjoying breakfast and lunch in their classrooms at this time. Once we are able to lift restrictions, breakfast will be served daily in the Cafeteria and classrooms will be able to enjoy their lunches in the Cafeteria as well.
School Café
School Café is the one stop shop for the DPS Food and Nutrition Services department. This year we have a new and improved way for parents, students and staff to access school meal menus. Download the School Café App at Google Play or Apple Store. You can find our school under Knight ECE. *Please make sure to use view the head start menus for PreK. As a reminder, we always only offer one item for lunch at SKCEE.
Menus are now live on School Café! View your student's school menu through your School Café account or as a guest at www.SchoolCafe.com/DPS. See attachment to this email for more specific details on accessing your school menus. The menus now have a number of features including:
Nutritional Information
Allergen Information
Print a PDF of the menu
Ability to make a sample tray with your student
School Café is:
Convenient: You can easily check what's on the menu, including nutritionals.
Able to go where you go. The mobile app can be downloaded in Google Play or the Apple Store.
NOTE: If you have issues with the mobile app on the iPhone, try uninstalling it and reinstalling it the following day. If that doesn't work, download Google Chrome. For additional support questions, please contact SchoolCafé at 1.855.PAY-2EAT (1.855.729.2328) or email customercare@schoolcafe.com. Hours: M-F, 6AM-6PM CST.
To enroll, go to www.schoolcafe.com/dps or download the SchoolCafé mobile app.
Parents, please be advised at this point SchoolCafe is only used for menus and nutritionals. All school payments are still processed and managed through MySchoolBucks.
April Menus
February Menus 22-23
January Menus 22-23
December Menus 22-23
November Menus 22-23
October Menus 22-23
September Menus 22-23
**They have only published partial menus for September, I will update the menus once they are complete from the district.
August Menus 2022-2023
Lunch Information
Please remember we are a Nut-controlled facility. Please do not send any nut butters, candy that contains nuts or cookies that contain nuts to school in your child's lunch. Yes, teachers and paras do check every student's lunch. Please be thoughtful and check labels before sending them to school with your child.
If you send a non-nut butter sandwich with your student, please label the sandwich or put a note in the the lunch box with the type of "butter" that is being used. This will help the staff recognize that the sandwich does not contain tree nuts.
If a lunch is sent that does contain tree nuts, the teacher will put the item back in your students lunch box to be saved to eat at home. If it is their sandwich they will provide a hot lunch for your student .
Please pack your child's lunch in easy to open containers. Due to licensing regulations glass/ceramic containers are not allowed in student's lunches.
Licensing only allows quart sized plastic bags or smaller to be used with student lunches. Please do not send your child's lunch in a plastic grocery bag.
Please provide a drink with your child's brought lunch or inform the teacher that they would like a milk.
Please make sure to label all lunch boxes and containers with your child's name. Licensing requires that all students water bottles must be labeled as well.
Brought lunches cannot be reheated in the classroom or the cafeteria.
Please provide an ice pack if your child's lunch needs to be kept cool.
If you include a note in your child's lunch we will definitely help them read the note!
5 Smart Tips for Packing Your Preschooler's Lunch
One size doesn't fit all when it comes to school lunch. Find out how to pack healthy lunches your toddler or preschooler will eat up!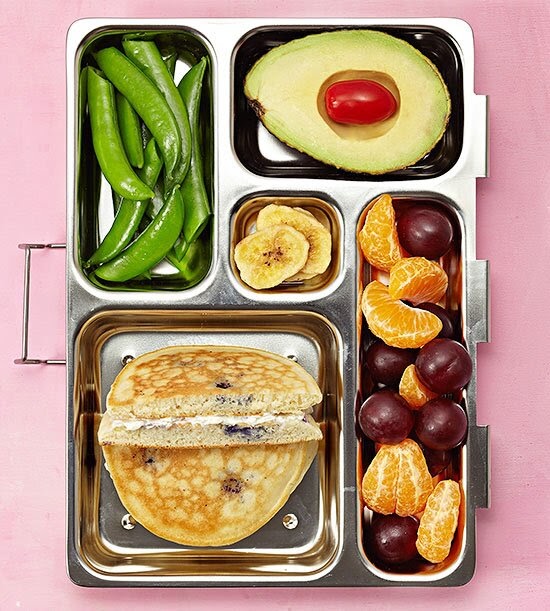 Packed lunches aren't just for K-12 kids. If your child attends daycare or eats lunch at preschool, you may be prepping lunch boxes every day too. A lot of lunches you see online are geared toward older kids, so here are a few tips for packing for the pint-sized set:
1. Rethink portions. One of my biggest tips for parents who see a lot of unfinished food come home: Cut back on the amount that you pack. Big portions can be overwhelming to kids—especially little kids—and that may prevent them from even starting. Small portions simply look more doable. Five grapes is a lot more manageable than a big bunch! I actually find that the less I pack, the more food my kids eat.
2. Go for hand-held. Hand-held foods are my favorite for packed lunches, especially for little kids who may still be learning how to manage utensils. Finger foods are quicker and easier to eat and more likely to go from lunch box to belly. Cut sandwiches into four smaller pieces and slice fruit. Pack a cloth napkin for messy hands.
3. Consider the packaging. Toddlers and preschoolers may have a tough time opening packages—and teachers may be stretched thin when helping kids during lunch. When possible, unwrap packaged foods. Even opening bananas can be tricky at this age. Cutting a slit in the stem will help get them started. Also, be sure to get a lunch box that's easy to open and close (sounds silly, but I know from experience that a cute lunch box is no good if your kid can't even open it!). And be sure your child is able to open and close all containers easily (practice at home to be sure).
4. Watch out for choking hazards. For kids age 4 and younger, slice foods into small pieces and avoid things like chunks of hot dog, popcorn, whole nuts, whole grapes, and chunks of meat or cheese that could get lodged in their throats.
5. Think outside the box. This is a perfect time to start building healthy eating habits, so consider ALL types of food when packing, not just the usual lunch box staples. For instance, instead of a sandwich, you could pack some bites of leftover chicken or pieces of hard-boiled egg. Don't think your child will eat veggies at lunchtime? I didn't think mine would eat leftover roasted broccoli until I packed it—and he ate it! Here are some fun lunch box ideas for little kids that will help them learn their letters while having fun with food.
For more inspiration, check out these 20 Healthy Lunchboxes for Toddlers and Preschoolers and follow the hashtag #healthylittlelunchbox on Instagram.
Sally Kuzemchak, MS, RD, is a registered dietitian, educator, and mom of two who blogs at Real Mom Nutrition.