SKCEE PTA

Interested in Joining the SKCEE PTA Board for the 21-22 school year????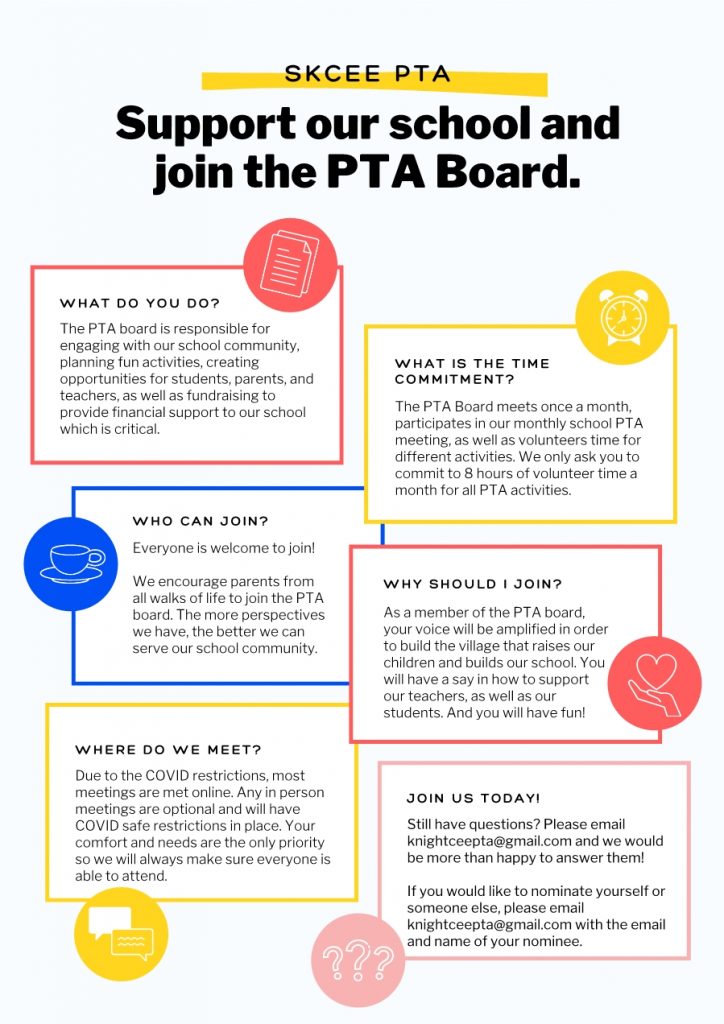 Our Mission 
Our mission is to support Stephen Knight Center for Early Education's leadership, teachers and staff in fostering an inclusive, diverse learning community through parent engagement, volunteerism, advocacy and financial support that helps all SKCEE students reach their full potential.
Our Values
Students First: We believe in providing all SKCEE students with a positive school experience that helps them develop a lifelong love of learning.
Collaboration: We believe in the power of strong, supportive relationships between staff, students and families.
Inclusivity: We believe that all SKCEE families and staff play an important role in helping our students succeed.
Connection: We believe in keeping SKCEE staff and families connected through open communication, transparency and a shared commitment to SKCEE students.
Our Goals
Promoting a culture of parent engagement and volunteerism.
Providing sustainable financial resources that support student education and classroom needs.
Maintaining effective communication within the SKCEE community.
Fostering collaboration and partnership between SKCEE families and staff.
Nominations for the 2021-2022 PTA Board of Officers
The PTA is accepting nominations for the 2021-2022 Board of Officers now through April 21. The PTA will vote to elect officers at the May PTA meeting. To submit nominations or with questions, please email KnightCEEPTA@gmail.com.
The following is a list of PTA Board of Officers along with a brief job description: President — provides leadership for the board of officers and serves as the primary liaison with school leadership Vice President — supports the president and serves as a representative on the CSC Secretary — manages communications and records meeting minutes Treasurer — builds and maintains annual budget and facilitates financial transactions Fundraising Chair — develops fundraising plan and coordinates fundraising efforts Social Media Chair — manages the social media outlets and assists with website maintenance
Join Us
The PTA encourages all SKCEE families to participate in our efforts! We welcome you to join the 2020-2021 PTA. Membership dues are $15 for family/community members and $10 for faculty/staff members. Membership dues support the SKCEE PTA general fund. As a member of the PTA, you'll be a voting member and invited to attend optional, monthly PTA meetings. Most importantly, you'll be a valuable part of making Stephen Knight Center for Early Education a wonderful place for our young students! Click here to join: https://skcee-pta.square.site/
Volunteer
Though this coming school year may look different than what we anticipated, the PTA hopes that you'll consider volunteering. Throughout the year, over 200 volunteers help with school fundraisers, work to support our teachers, serve on PTA committees, and provide meaningful activities for our students and families. Please consider volunteering!
Follow the PTA on Social Media
District News and Resources
Information regarding DPS. In addition, checkout family resources currently offered by DPS.
Grab-and-Go Meal food distribution information. Up to date DPS Coronavirus and FAQ Info.
Learn More About the SKCEE PTA
These are some of the meaningful ways the PTA supports our students:
Provides funding to ensure classrooms have paraprofessionals
Encourages and supports teachers and staff
Sponsors family/community programs like the annual Fall Picnic, Snowball School Dance, and Spring Fling.
Enhances the educational environment with student/family activities like guest author visits, parent education programs, arts/cultural enrichment programs and more
Fulfills special funding requests
Informs parents and families about school-wide activities and opportunities
Fundraising
The SKCEE raises funds throughout the year to support our school. Fundraising activities include:
SKCEE Scamper: This annual FUNdraiser includes a student jog-a-thon, silent auction, and sponsorship opportunities. The Scamper is our largest annual fundraiser and though it is usually held in the fall, we have opted to postpone this event until spring.
Spring Fling: The annual Spring fling gathers our community for an outdoor fair at the school. Activities include games, food, tie-dye, music and lots of fun!
And, other fundraising activities such as SKCEE Dine-Out/Take-outs, Mabel's Labels, and BoxTops
Ways You Can Support Our School
Meet the 2020-2021 PTA Board
We look forward to a great year at SKCEE and continuing the SKCEE tradition of an active, involved, fun, and hard-working PTA! Please let us know how we can better serve you, your kids, and our amazing school.
President: Melissa Viola (Kinder)
Vice-President: Melissa Viola (Kinder)
Secretary: Laurel Kelley (ECE 4)
Treasurer: Marianne Lapuyade (ECE 4 & Kinder)
Social Media Chair: Lindsey Linden (ECE 3 & ECE 4)
Contact the PTA at KnightCEEPTA@gmail.com
PTA Meeting Minutes
Available upon request. Members of the PTA may obtain a copy of the current bylaws by requesting through the PTA email at KnightCEEPTA@gmail.com and a copy will be provided.